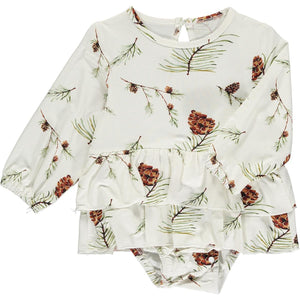 Who says practical has to be boring? Our onesie has an integrated frill skirt, so you can look stylish while you sleep! Made from super-soft bamboo, this cozy onesie also has a sweet pine cone print.
Made from 95% bamboo viscose and 5% spandex, with the most amazing properties; a super soft and gentle fabric, hypoallergenic, UV protective, moisture wicking and biodegradable. Also with great insulating properties - warm in winter, cool in summer and a from sustainable crop.
Machine wash at 30 degree.