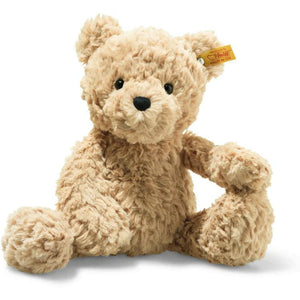 Material: Made of cuddly soft plush
Size: 12 inches
Color: Light Brown
Eyes: with safety eyes
Ear tag: with stainless steel "Button in Ear"
Joints & Pose: Sitting
Care: machine washable at 86 °F on gentle cycle
Every kid has room for one more plush pal — as long as it's one of our "Soft Cuddly Friends"! This adorable collection of plush toys comes to you from Steiff, the experts who invented the Teddy bear. Jimmy is a member of the modern generation of Steiff creations — those distinguished by their contemporary designs, ultra-soft fabrics, and attractive prices. He's designed for creative play all day, and for comfort and companionship all night.